CD-6001 1mm*1mm Hot Sale PTFE Coated Fiberglass Mesh Fabric Quality Choice
Product Description
MESH DISCRIPTION PTFE COATED FIBERGLASS MESH DISCRIPTION
Item No.
Mesh Size
Material
Thickness 
Weight  
Temperature Resistance
Max Width
Tensile Strength
(mm)
(mm)
(g/m2)
(°C)
(mm)
(N/cm)
6001
1x1
Fiberglass
0.5
370
-70~260
3000
310/290
6002
2x2
Fiberglass
0.7
450
-70~260
3000
350/310
6003
4x4
Fiberglass
1.0 
400
-70~260
4000
390/320
6004
4x4
Fiberglass
1.0 
450
-70~260
4000
390/320
6007
4x4
Fiberglass+Kevlar
1.2 
600
-70~260
4000
895/370
6008
4x4
Fiberglass
1.0 
500
-70~260
4000
395/370
6010
4x4
Fiberglass
1.0 
500
-70~260
4000
900/600
6012
4x4
Fiberglass
1.0 
550
-70~260
4000
395/370
6013
10x10
Fiberglass
1.2
450
-70~260
3000
360/300
6014
0.5x1
Fiberglass
0.5 
420
-70~260
3000
310/290
6015
2x2.5
Fiberglass
0.9 
600
-70~260
3000
390/320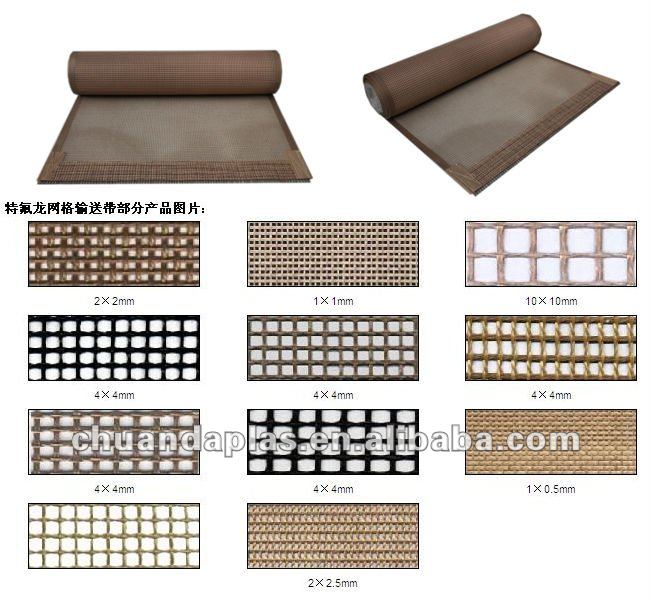 PTFE Coated fiberglass Mesh Belt
1.Thickness:1.0mm
2.temperature :-70 to 260C
3.Chemical Inertness 
4.Non-Stick surface    PTFE Coated Mesh Belt Applications:   PTFE mesh belts are used in applications such as the drying of printed products for example; point of display stands, T-shirts, glass and mass produced paper prints. Print dryers usually opt for Ultra violet, Infra red or hot air as the heat source to dry.   Other applications range from the drying of cereals, non woven's, charcoal interlinings, carpet & carpet tiles, printed circuit boards and shrink-wrap tunnels but to name a few.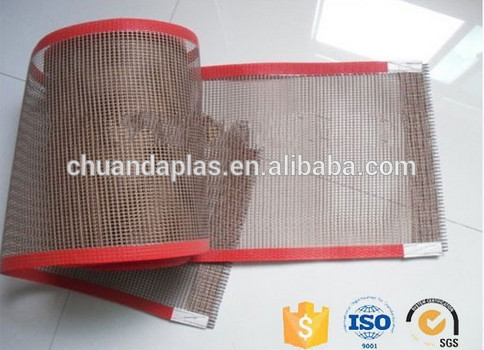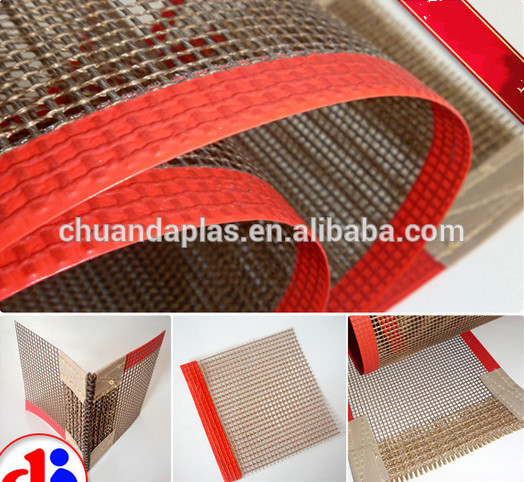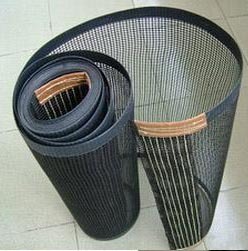 PTFE Belting Chuanda manufactures various of belts with its material of smooth
PTFE Fabric
,ptfe mesh, kevla,
Silicon Rubber
etc to custom specifications, depending on each customer's individual needs. To help determine the best belt for your unique application, you need provide the following information for our experienced technical manager to discuss your requirement.
Ordering Your Ruida Belt
Whenever possible, have the following information available:      * Dimensions of belt: width and length
     * Desired splice, edge reinforcement and tracking devices, where needed
     * Pulley size and type
     * Any special construction or instructions concerning the fabrication of your Ruida belt. In some cases of 
       complex fabrication,a print may be requested. Choosing the Right Material
There are a number of factors to keep in mind when choosing the belting material for your application:      * Temperature Range – Our ptfe fabrics have the capabilities of withstanding -70°C- +260°C constant operating temperatures.
     * Pliability – If the material is to track around pulleys that drive the belt, the diameter of the pulley is critical. The smaller the roller the more flexible the belt must be. Ruida's thinner materials (0.010" and under) are more pliant than the heavier coated fabrics.
     * Release Qualities – The surface finishes of our materials range from a rough, semi-porous finish to a super smooth surface. The release or fabric impression results desired will be a determining factor.
     * Strength – Options to be considered are breaking, tensile and tear strength. How much of a load the belt carries, how fast it moves and how tightly it will be tensioned all must be considered. Fabric Grades
Pls refer to PTFE fabric products colomn Fabrication Options
Learn more about the many options available for constructing your PTFE conveyor belt.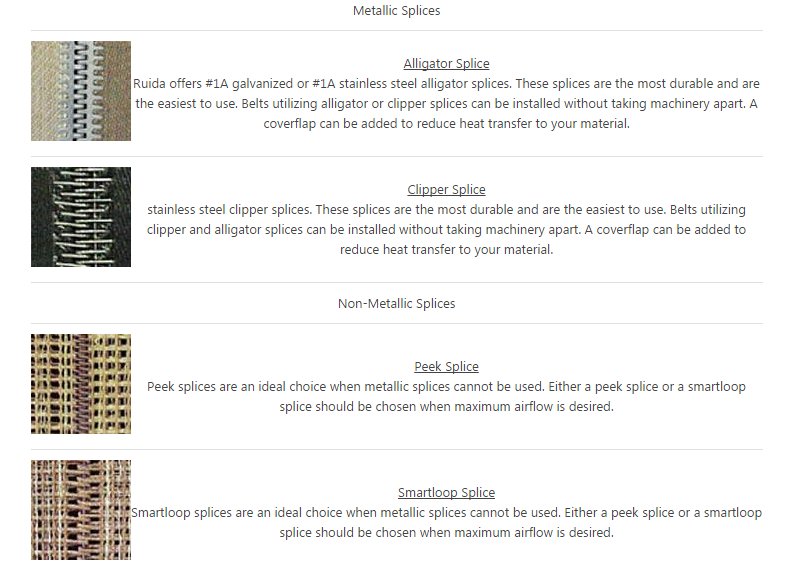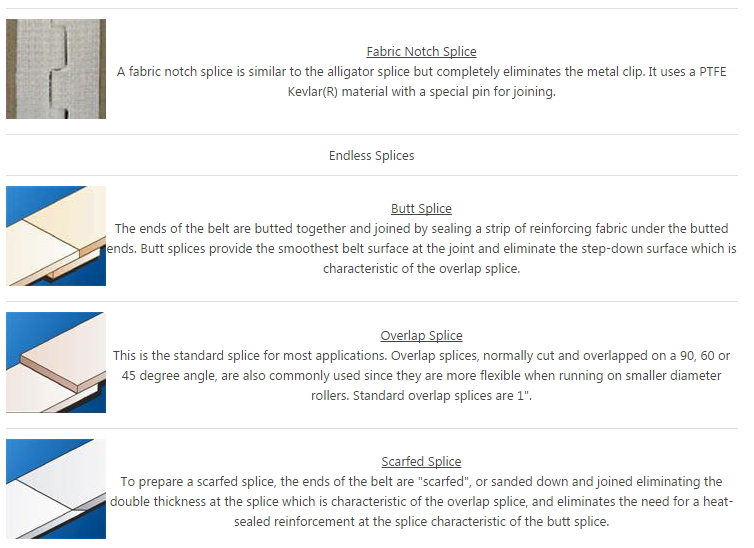 Edge Reinforcements
Chuanda belts can be supplied with strips of heat-sealed film or fabric on one or both edges of your belt. This reinforcement serves a dual purpose; it reduces fraying of belt edges which rub on guiding rollers and it also provides the strongest possible anchor for guiding pins, snaps and grommets.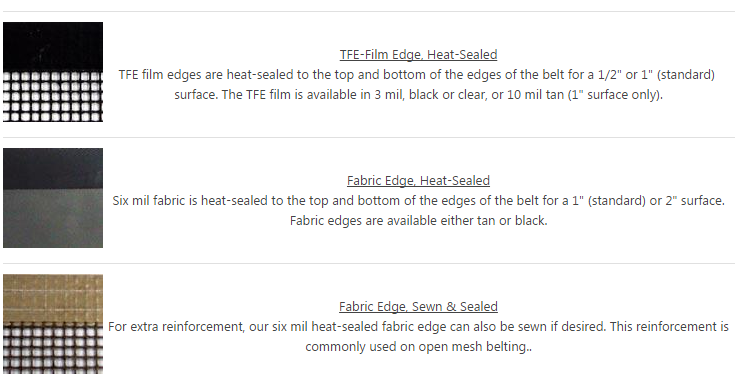 Two-Ply Belts
Two-ply belts are constructed of two plies of TFE-GLASS™, laminated together with staggered splices. This provides a smooth, continuous thickness along the entire belt length which guarantees a uniform seal in packaging and heat-sealing applications. The belts are typically available in widths of ½" – 3".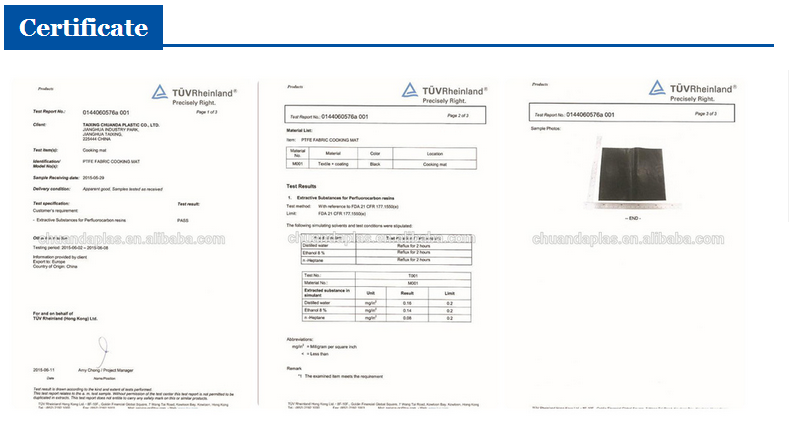 Contact us if you need more details on ptfe mesh fabric. We are ready to answer your questions on packaging, logistics, certification or any other aspects about ptfe mesh belts、ptfe open mesh
cloth
. If these products fail to match your need, please contact us and we would like to provide relevant information.
Product Categories : PTFE Mesh Belt